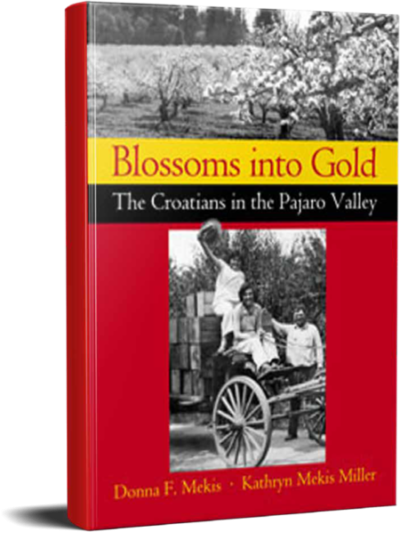 Published by Capitola Book Company with support from
Ow Family Properties and the Borina Foundation
Of all the immigrant groups who flocked to California in the last two hundred years, probably the least known are the Croatians of the Dalmatian Coast.
Often identified as Austrians, Slavonians or Dalmatians, they came from a glorious background of international traders, sailors, and political thinkers few people in America knew about, and brought with them knowledge that would change the way the United States did business. At the same time, they transported their customs and beliefs to their new home and established a way of life that was vibrant and rich in traditional folkways. Blossoms Into Gold tells their story for the first time, from their fabled past to their economic innovations in the Pajaro Valley. Enriched with over 170 rare photos and illustrations, the book records an important segment of American history.
Invite Kathryn Miller and Donna Mekis
to speak at your next event
Inquire regarding dates, technology requirements, and honorarium
This hour-long video shows the book launch event, from the arrival of 400 people; the introduction by Sandy Lydon; and the slide presentation by Donna Mekis and Kathryn Mekis Miller.
This 30-minute video tells the story of the authors being invited to Croatia to present their research in Čilipi, Konavle, Croatia (near Dubrovnik). It takes you with them on their journey.
This two-hour video includes the full class — lectures, walking tour of Croatian-built buildings on Watsonville's Main Street, the interior of the Resetar Hotel, Sambrailo Packaging, Gizdich Ranch, and a tour of the Croatian mausoleums at Valley Catholic cemetery.
All three videos were filmed and edited by videographer, Peter McGettigan.
If you have questions or comments about Blossoms Into Gold, please email us.
Additionally, if you would like to send us your stories about Watsonville's Croatians, we will collect them and give them to the Pajaro Valley Historical Association. Please include your name, and your family's Croatian surname.